Services
R&D, Process development, Device prototyping, Nanoscale materials characterization, Small scale productions, Consulting.
ThunderNIL masters and combines in clever nanofabrication schemes a broad set of technologies
Pulsed-NIL
Nanoimprint Lithography
Electron Beam Lithography
High resolution X-ray lithography
LIGA
Interference Lithography
Soft Lithography – Microcontact printing
UV Photolithography
Interference lithography
Sputtering
Physical Vapor Deposition
Electroplating
Spin-coating
Plasma etching with RIE and ICP systems
Wet etching
Scanning Electron Microscopy
Elemental analysis (EDX)
Contact angle measurement
I-V Measurements
We offer advanced and flexible services based on a solid know-how on a broad range of technologies
R&D contracts
ThunderNIL offers its experience on micro and nanofabrication in order to reach very challenging objectives set by customers. ThunderNIL's team has built its know-how thanks to internal R&D activities and a number of European and National research projects. Customer should provide a clear description of the goals that need to be achieved. A detailed discussion with the ThunderNIL's team will result in a detailed plan with milestones and a quotation for the service.
The R&D contracts may range from the development of a single process step to the prototyping of full functional devices and characterization. ThunderNIL is committed to provide the best effort to reach the stated objectives and to maintain a strict confidentiality about the requested R&D contract.
Nanoscale characterization
Identifying what has caused the failure of a device, tracking the possible origin of contaminants from their composition and investigating ways of improving the quality and durability of a product, can be now achieved more easily than in the past using modern high-resolution imaging technologies. A key imaging technology is scanning electron microscopy, which allows to image details down to a few nanometers, which are essential to understand and correct issues during the development of nanofabrication processes.
ThunderNIL offers its experience on nanoscale imaging, elemental analysis and data interpretation, in order to help customers to identify clearly issues in their industrial processes.

Pattern design
ThunderNIL offers its experience in designing the pattern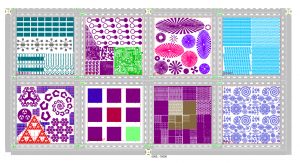 of photomasks, Nanoimprint Lithography stamps, for various kinds of applications, from microfluidics to MEMS, diffractive and refractive optical elements. For applications of nanotechnology in the field of surface finishing, ThunderNIL has developed codes that allow to create a range of aesthetic  effects that can be imparted to surfaces of various materials.
Small scale productions
ThunderNIL offers the possibility to implement and test small scale productions of micro and nano-devices in a very flexible and cost-effective way, usually not possible in large scale factories. If your company or laboratory needs to test a new device concept and make preliminary production batches for the assessment on its application field, why not try ThunderNIL services?
Consulting
Developing nanofabrication processes and establishing how to link them up to build properly working devices is usually a tough job. Each step has to be validated, refined and iterated until all the details are at the right place. 
With the extensive experience on conventional and unconventional nanotech process, we can anticipate most of the difficulties arising in the process development, helping customers to save time and money and reach their goals. ThunderNIL's team provides assistance to companies and research institutions to develop innovative micro- and nanofabrication processes customized for their specific needs.
Research projects
ThunderNIL is available to be partner in research projects funded by different international agencies.