Pulsed NIL tools
Thermal NIL & Pulsed-NIL™ combi system
Pulsed-NIL systems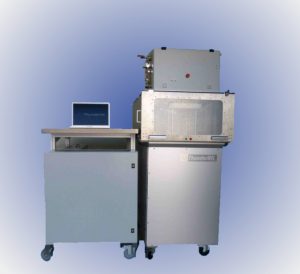 At present ThunderNIL offers its ULISS, which is a manually operated full wafer tool, suitable for research activities at Universities and R&D laboratories. It allows imprinting substrates from small size (~1 cm2) up to 4" wafers, with a cycle of 1 min (i.e. 60 wafer/hour in manual operation!). The system can be configured according to customer request for ultrafast imprinting on substrates of up to 8″ (square or circular).
The ULISS system is equipped also with heating plates, which make it possible to be operated as a conventional thermal NIL tool. This is particularly suited in the case daughter Pulsed-NIL stamps need to be obtained from conventional standard NIL stamps. In this case, the same ULISS tool can be used first to replicate the mother stamp into daughter stamp by standard NIL, and then using the daughter stamps for the batch production.
Except for wafer loading and unloading, which is done manually, the process execution in the ULISS system is controlled via computer interface.
Pulsed-NIL technology is going to be implemented in different types of tools, distinguished mainly on whether they are:
Manually operated Combi (Pulsed-NIL + Thermal NIL)
Fully automatic systems (cassette to cassette)
Step & Repeat systems
Stepper capabilities are needed for seamless recombination of smaller stamps, mostly for the enlargement of templates to surfaces up to square meter areas. A step & repeat Pulsed-NIL system is currently under development. The next development will focus on Automatic tools with robotic arm for substrate handling.
ULISS: Thermal NIL & Pulsed-NIL system (Datasheet)
Pulsed-NIL section
• Voltage, Duration, and Repetition Rate of Pulses can be independently adjusted to suit to a wide range of imprinting conditions.
• Voltage and Power enable Pulsed-NIL on substrates exceeding 6" in size.
Thermal-NIL section
• 4 kW Heating up to 350°C in 3 min;
• Air + Water cooling (from 350°C to 20°C in 5 min);
• Easy Temperature process profile settings by software;
• Fully independent settings for Upper and Lower plates;
Press section
• Pressing force up to 80 kN (~8.1 metric tons);
• Heavy duty 3kW Oil pump up to 160 bar;
• Plates net area 110 x 130 mm;
• Max plates aperture (stroke) 140 mm;
• Columns interspace 190 mm ;
• Working area under laminar flow from H14 class filter.
• Pressing force up to 80 kN (~8.1 metric tons);
• Pressing force up to 80 kN (~8.1 metric tons);
Safety
• Redundant interlocks on working area;
• Fully EMI shielded;
• Password protected levels;
Software & Controls
• National Instruments cRIO 9074 PLC;
• FPGA based LabVIEW interface;
• Acquisition of pulse V and I profile (1 µs res.);
• Automatic process log file;
General data
• Weight approx 200 + 400 kg;
• Electric power: AC 400V 50Hz 3P+N Max 10kW;
• Compressed air 4~7 bar <10 l/min;
• Nitrogen 4~7 bar <10 l/min;
• Cooling water 2~8 bar <5 l/min;
• Dimensions: two modules with footprint 1200×800 mm and H 1200 and 1900 mm.
Pulsed-NIL stamps
ThunderNIL has devoted a large R&D activity to the development of a reliable stamp technology. Different solutions for Pulsed-NIL stamps are available for a variety of experimental or working conditions.
Specific requests and needs can be addressed by ThunderNIL's highly skilled technical team.
The pattern origination on Pulsed-NIL  can be requested. In alternative, ThunderNIL can deliver to its customers blank stamps, which customers may want to pattern by themselves or by third party services.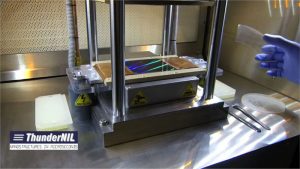 Stamp mounted and electrically connected in the ULISS tool