ThunderNIL has devoted a large R&D activity to the development of a reliable stamp technology. Different  solutions for Pulsed-NIL stamps are available for a variety of experimental or working conditions.
Specific requests and needs can be addressed by ThunderNIL's highly skilled technical team.
The pattern origination on Pulsed-NIL  can be requested to ThunderNIL. In alternative, ThunderNIL can deliver to its customers blank stamps which customer may want to pattern by themselves or let be patterned by third party services.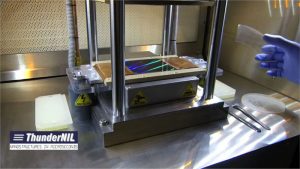 Stamp mounted and electrically connected in the ULISS tool